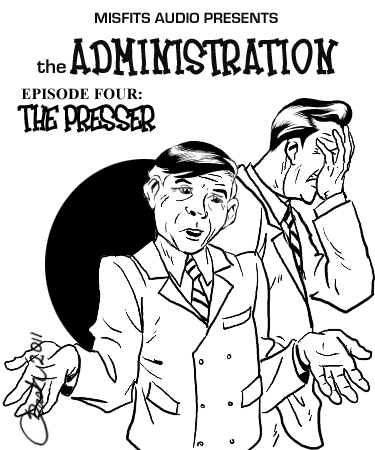 Disaster awaits as the President-elect holds his first Press conference.

STARRING:
JOE STOFKO as President-elect Richard Duncan,
H KEITH LYONS as Mergatroid, and
TERRY COOPER as the Announcer.
GUEST STARRING:
TERRY COOPER as The Reporter
Written, created, and produced by Mike Murphy.
Assistant Producer: Capt. John Tadrzak.
Post-Production by Joshua W. Miller.
Original music was composed and performed by Sam Wu. Please visit his website at thesixtyone.com/sam1010.
The art director is Steven "Sash" Scott.
The webmaster is April Sadowski.
Capt. John Tadrzak CEO of Misfits Audio Productions
This has been a production of Misfits Audio. c 2011.All rights reserved.

Standard Podcast
[ 10:39 ]
Play in Popup
|
Download
(290)