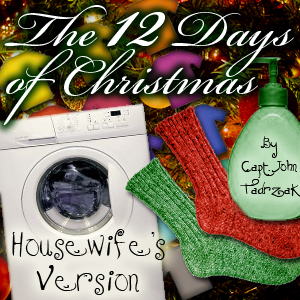 Misfits Audio 12 Days of Christmas
[ 5:45 ]
Play in Popup
|
Download
(629)
Only from the mind of Capt. John would this even be dreamt from. For all you Chief Cooks and Bottle Washers.He wishes everyone a Merry Christmas and a Happy New Year.
We would like to really thank the talented singing voices of:
In order of days. (1 – 12)
Cookie Colletti
Murray Retread
Alexa Chipman
Johnnie T
Cheryl Cunningham
Steve Carter
Janet Green
Alex Gilmore
Clem Retread
Alan Anderton
Gwendolyn Jensen-Woodard
Christopher "Chip" Joel
And a VERY special thank you for our pianist: Kristen Zaza
Writer: Capt. John Tadrzak
Post-Production: Jim Smagata
Sound effects: Jim Smagata
Music Kristen Zaza
This has been an original production from Misfitsaudio.com Copyright © 2009.
The Twelve Days of Christmas
A HOUSEWIFE'S (PERSON) version
On the First day of Christmas my true love gave to me:
A washing machine in a small room
On the Second day of Christmas my true love gave to me:
Two laundry soaps
On the Third day of Christmas my true love gave to me:
Three Clothes Softeners
On the Fourth day of Christmas my true love gave to me:
Four Bleach Bottles
On the Fifth day of Christmas my true love gave to me:
Five STINKING SHORTS
On the Six day of Christmas my true love gave to me:
Six holey socks
On the Seventh day of Christmas my true love gave to me:
Seven ripped t-shirts
On the Eighth day of Christmas my true love gave to me:
Eight Greasy Overalls
On the Ninth day of Christmas my true love gave to me:
Nine Dirty sheets
On the Tenth day of Christmas my true love gave to me:
Ten pillow cases
On the Eleventh day of Christmas my true love gave to me:
Eleven WORK DAYS
On the Twelfth day of Christmas my true love gave to me:
Twelve Loving Kisses
13 Comments to "Misfits Audio 12 Days of Christmas"