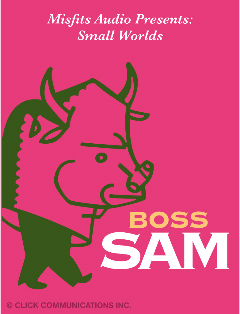 If justice was this much fun our prisons would be empty.
STARRING:
Jon Specht, as the Announcer
Tanja Milojevich, as Felicia DaSilva
and Scott Fortney as Sam.
Julie Hoverson as Sam's Mama;
Rosie Fortney as Baby Sam;
Glenn Hascall as The General;
Glenn Higbee as Radar; and
Esther Specht and
Ryan Hascall as the Kids.
CREW:
Colin Thornton, Writer,Art and Producer.
Jim Smagata, Mixer and Sound Design.
April Sadowski, Webmaster.
Cap. John Tadrzak, Executive Producer, CEO of Misfits Audio.
This production is presented by Misfits Audio Productions and is for entertainment purposes only; no money has been or will be made from this production. Misfits Audio Productions – Copyright 2012.

Standard Podcast
[ 7:40 ]
Play in Popup
|
Download
(291)