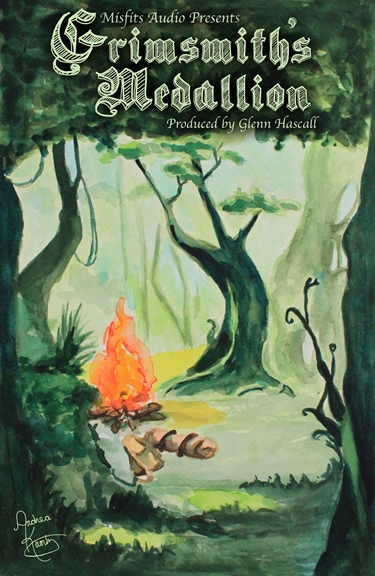 Dwarfs, ogres, and other mythical creatures meander through the forest. When they encounter Ulric and Fenral they set the two men on a quest for Grimsmith – a shapeshifter king most assumed was legend only. Is it imagination only – or has the forest become much darker.
A presentation like this can't exist without the talents of cast and crew.
Alex Gilmore played Perseverance and Ulric
Jeff Niles as Fenral
Gwendolyn Jensen-Woodard as Donella
Glenn Hascall as Bargus
Delvin Kinser as Turgott
And
Glenn Hibbert as Grimsmith
"Grimsmith's Medallion" was written and produced by Glenn Hascall.
Mixed by Mathieu Blondin.
Executive Producer and Webmaster: Capt. John Tadrzak
Art Direction by Andrea Kuntz
Music by Antti Martikainen
Creation of the World album
– Creation of the World
– The Era of Legends
– Ominous Revelations
And Adrianvon Ziegler
Dark Film Music – Reign of the Dark
This has been the Misfits Audio Presentation of Grimsmith's Medallion.
This production is for enjoyment purposes only and does not intentionally reflect any specific characters living or dead. This is an original production by Misfits Audio, © 2014. All rights reserved.

Standard Podcast
[ 22:14 ]
Play in Popup
|
Download
(502)