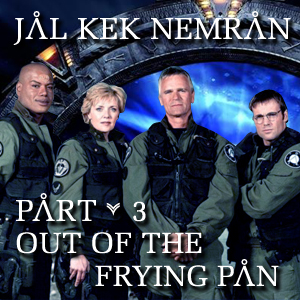 Jal Kek Nemran - Part 3 "Out of the Frying Pan"
[ 16:29 ]
Play in Popup
|
Download
(890)
SG-1 follows the trail of their missing scientists and joins the Jaffa resistance on a mission to Ma'at's homeworld.
Featuring the voice talent of:
Kel'sha – Anthony Rooney
Master Bra'tac – Gareth Bowley
Rak'nor – Paul Mannering
Calmah – Jules Ismail
Colonel Jack O'Neill – Darren Marlar
Capt. Samantha Carter & Sweena – Tanja Milojevic
Teal'c – Glen Hallstrom
Dr. Daniel Jackson – Joe Hempel
Neferet – Gwendolyn Jensen-Woodard
Apophis – Darren Marlar
Malek – Toby Bennett
Ma'at Jaffa – Channe Nolen
Ma'at – Kim Gianopoulos
Na'binim – Alex Gilmour
Dr Lee – Scott Wentworth
This has been made for entertainment purposes only, no copyright infringement was intended. Everything property of MGM, SyFy, etc. A tribute to floppy-haired spacemonkey era.