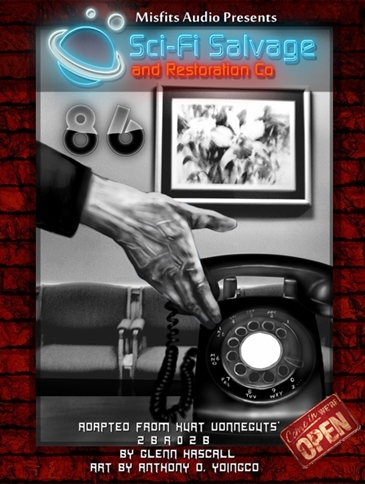 Standard Podcast
[ 21:59 ]
Play in Popup
|
Download
(148)

Welcome to another exciting episode of Sci-Fi Salvage and Restoration Co. The Storykeeper finds a use for a story originally written by Kurt Vonnegut to help a man down on his luck to see there may be hope for his future. Head inside the Sci Fi Salvage and Restoration Company and enjoy the latest story.
Thanks for listening to Sci-Fi Salvage and Restoration Co. – Episode 2 – "86" Ticket Don't forget to check out the complete cast members by clicking (more).
Cast List
This is Sci-Fi Salvage and Restoration Co. – Episode 2 – "86"
We'd like to thank our cast…
Dale McCubbins as Joe
Joe Stofko as Storykeeper
John Dehnart as Ed
Glenn Hascall as Ray
Delvin Kinser as Orderly
Ben Stephens as Radio Announcer
Natalie Stanfield as Leonora
Paul Brion as Dr. Hitz
Rebecca Thomas as Female Operator
Tami Rumfelt as Mrs. Wehling
Destiny Garza as Nurse
Eleiece Krawiec – Woman
Josh Svendsen as Marty
Chloe Dehnart as Child
And
Scott Johnson as Narrator
"86" was adapted from Kurt Vonnegut's short story "To Be or Naught to Be" by
Glenn Hascall who also served as producer of this broadcast.
Post production by Sonny Steelgrave.
Executive Producer and webmaster – Capt. John Tadrzak
Music by Kevin Macleod of Incompetech.com.
Art by Anthony Yoingco
This series will focus on short stories written during the Golden Age of science
fiction. Each story will be lovingly recreated to resemble the more campy
perspective of early science fiction broadcasts. Characters in this story were not
meant to bear a resemblance to anyone living or dead.
This production is for enjoyment purposes only and is an original production by Misfits Audio, © 2017. All rights reserved.