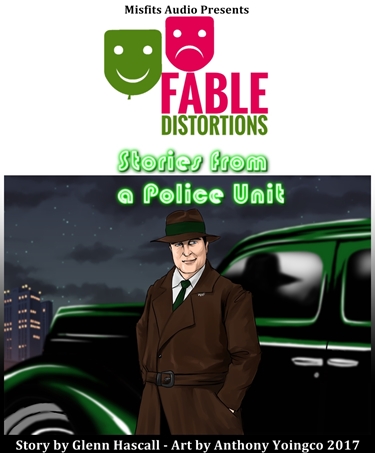 Standard Podcast
[ 17:53 ]
Play in Popup
|
Download
(186)

Welcome to the antics of the Police Unit. A place where some things are quite literal and others are just riddled with whimsy. Burt is lead detective and exudes a confidence that no one understands. In the end there is a resemblance to an event in a beloved and classic fable. Maybe you'll know what it is before reaching the end credits.
Stories from a Police Unit exists because of the talent and dedication of the Fable Distortion players…
CAST LIST:
Tom Chalker as Vampire 2, Movie Trailer Voice
Delvin Kinser as Vampire 1, Waiter and Mike
Ryan Hascall as Jeff, Bill, Vampire 3 and Don
Katie Dehnart as Kara, Mom, and Katie
Glenn Hascall as Less Enthusiastic Announcer and Leo
Specials guests include….
Pete Lutz as Burt
Dale McCubbins as Narrator and Pilot
Chloe Dehnart as Child
Blake Carter as Ted
Natalie Stanfield as Paper Bag, Buffy and Stewardess
Josh Svendsen – Plastic Bag
Rigby Dehnart as Rigby
Brad Facciani as Theo
FABLE DISTORTIONS – Stories of a Police Unit was written, produced and mixed by Glenn Hascall.
Executive Producer and webmaster – Capt. John Tadrzak
Music provided by Kevin Macleod of Incompetech.com
Art Director: Anthony Yoingco
This story is presented for your amusement and pleasure and characters are fictitious and any similarities to an actual human was unintended.
This is an original production by Misfits Audio, © 2017. All rights reserved.