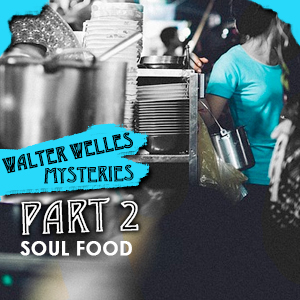 Standard Podcast
[ 19:16 ]
Play in Popup
|
Download
(75)

Roped into another unusual case, Walter Welles takes an apprentice under his wing. But first, lunch!
Episode 2 – Soul Food
Cast:
Chris Marcellus as Walter Welles
Rebecca Thomas as Poppy North and Elizabeth Pilgrim
Glenn Hascall as the Colonel
James Smagata as David, in the elevator
Jennifer Anne Scott as Paige, in the elevator
Glenn Hascall as the Officer, and
Rebecca MacDonald as the Nurse.
Russell Gold as Ned
The series was created, produced, edited, and written by Jake Lewsey.
Assistant Producer and Webmaster: Capt. John Tadrzak.
Script Editor: Jim Smagata, Mike Murphy, Eleiece Krawiec

Art Director: Alexa Chipman
All the characters portrayed in this series are fictitious. Any resemblance to actual persons, living or dead, is purely coincidental.
© 2017 by Misfits Audio. All rights reserved.