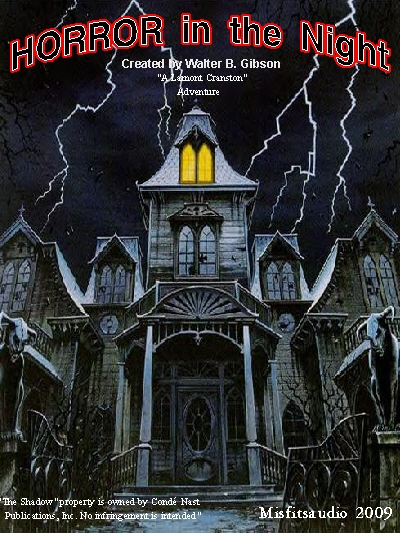 newshadow.mp3
[ 5:17 ]
Play in Popup
|
Download
(589)
The following audio production is being brought to you by
Misfits Audio
and
Grande Prairie Little Theatre
. It was first aired October 27 1984, in Grande Prairie, Alberta.
The Cast for "The Horror in the Night" was as follows:
Lamont Cranston/The Shadow was played by Paul Burke
Margo Lane was played by Chris Burke
Will Markham was Charlie Robins
Mrs. McGow was Louise Palmer
The Narrator was Hal Gordon.
Produced By Grande Prairie Little Theatre in October 1984. Technical production was by Jim Smagata. The CEO of Misfits Audio is Capt. John Tadrzak. "The Shadow" was created by Walter B. Gibson and the property is owned by Condé Nast Publications, Inc. Music was the theme from the movie "Dark Star", by John Carpenter.
This production was for enjoyment purposes only, and no copyright infringement was intended. We hope you have enjoyed "The Shadow" in "The Horror in the Night".