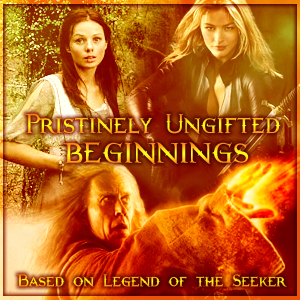 Pristinely Ungifted: Beginnings
Play in Popup
|
Download
(1082)
Created by Artemis Riddle

Jennsen's twin sister, who has been in hiding, is given a quest by her brother. She eagerly sets out, but soon questions whether or not she has chosen the right side in a war that threatens to destroy the Midlands.
Featuring the voice talent of:
Luna – Alexa Chipman
Darken Rhal – Jules Ismail
"Zedd" Zeddicus Zu'l Zorander – Capt. John Tadrzak
Cara – Gwendolyn Jensen-Woodard
Mistress Tanja – Tanja Milojevic
Vera – Reena Sharma
Sister of Light – April Sadowski
Townspeople – John Bell
Evil Wizard – Mark Kilfoil
Misc Peasants – Scott M. Sandridge, Tanja Milojevic, John Bell, Mark Kilfoil
Sound Effects by:
Bill Hollweg
Creative Commons – No Derivatives – Non Commercial – Attribution – 3.0
Created for entertainment purposes only. All Legend of the Seeker characters/situations property of ABC & respective owners.