Help! I Tripped On My Cloak & Dagger!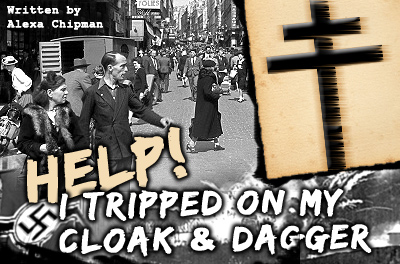 Written by Alexa Chipman
Post Produced by Michael Wilkinson & Michael Hudson
An O.S.S. officer parachutes into occupied France during WWII in order to assist the local resistance unit. They bumble their way through every mission-- fortunately the Germans are even more inept!

Featuring the voice talent of:
Lt. John Smith (O.S.S.) - Douglas Barbieri
"Canard" Robert Dumas (Resistance) - Abner Senires
"Hibou" Dr. Claude Gaudin (Resistance) - Alex GIlmour
Major Ernst Grunwald (Gestapo) - Jeremy Corke
Henri Chardin (Milice) - Scott D. Harris
Sgt. Oliver Hamilton (S.A.S) - Alan aka Kirok of L'Stok
Hans Biermann (Gestapo) - Abner Senires
"Phenix" Monique Blanchette (Resistance) - Elaine Barrett

Listen to Cloak & Dagger
Episode 1 | Listen Now (21 min)
Episode 2 | Listen Now (20 min)
Episode 3 | Listen Now (26 min)
Creative Commons - No Derivatives - Non Commercial - Attribution - 3.0