Legend of the Seeker: Pristinely Ungifted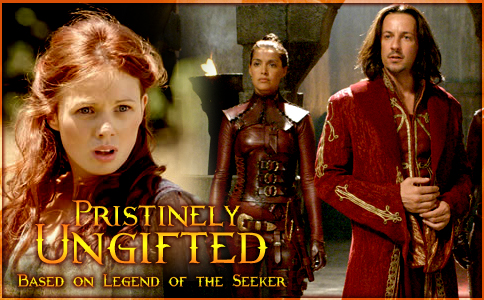 Created by Alexa Chipman
Jennsen's twin sister, who has been in hiding, finally discovers the family she has never known. After being sent to the safety of Thandor, she realizes the Sisters of Light are not what they appear to be.

Frequently Asked Questions:

Does this follow the books or the television series?
Television series, in fact episode 1 includes an explanation of the differences.

I haven't seen Legend of the Seeker, can I still listen?
Yes, it has been written with plenty of exposition for newcomers.

Creative Commons Attribution Non-derivative 3.0

Featuring the voice talent of:
Luna - Alexa Chipman
Darken Rhal - Jules Ismail
"Zedd" Zeddicus Zu'l Zorander - Capt. John Tadrzak
Cara - Gwendolyn Jensen-Woodard
Mistress Tanja - Tanja Milojevic
Vera - Reena Sharma
Sister of Light - April Sadowski
Townspeople - John Bell
Evil Wizard - Mark Kilfoil

Special Thanks:
Bill Hollweg for effects
Legend of the Seeker official site
The Seeker Cast for inspiration

Listen to Pristinely Ungifted

Episode 1 "Beginnings" | Listen Now (23 min)
Chronologically: During Season 2 television episode "Touched"
Created for entertainment purposes only. All Legend of the Seeker characters/situations property of ABC & respective owners.