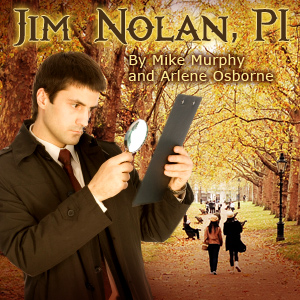 Written by: Mike Murphy
Directed By: Capt. John Tadrzak
Asst. Director: Mike Murphy
Post Production: Jon Specht
Edited by: Arlene Osborne
The famous Albert Nolan, Boston private investigator, is missing. His son, Jim, a realtor by trade, returns to Nolan Investigations to keep the business running with the help of his mom, Gladys. This young private investigator solves crimes, while looking for his missing dad, in 1970s Boston.
Copyright 2009/2010
Featuring the voice talent of:
Russell Gold as Jim Nolan
Joyce Bender as Gladys Nolan
Katie Dehnart as Narrator
Listen to Jim Nolan, Private Eye
Episode 1
"The Case of the Careworn Candidate" | Listen Now (34 min)
Episode 2
"The Case of the Purloined Payroll" | Listen Now (32 min)
Episode 3
"The Case of the Day Old Bread" | Listen Now (30 min)
Episode 4
"The Harriet Webster Murder Case" | Listen Now (32 min)
Episode 5
"The Brave Tailor" | Listen Now (33 min)
Episode 6
"The Head of the Class" | Listen Now (40 min)
Episode 7
"The Parker Stakeout" | Listen Now (35 min)
Episode 8
"The Counterfeit Collections" | Listen Now (34 min)
Episode 9
"A Killing in Real Estate" | Listen Now (34 min)
Episode 10
"Dead Air" | Listen Now (35 min)
Episode 11
"Father's Day Part 1" | Listen Now (38 min)