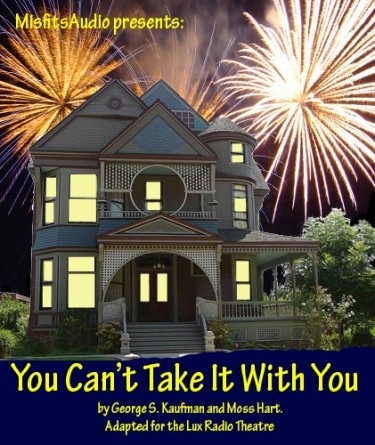 "You Can't Take it With You" by George S. Kaufman and Moss Hart.
Adapted for the Lux Radio Theatre and lovingly re-created by Misfits Audio for your enjoyment.


In our cast were:
Dennis Hayes as MARTIN VANDERHOF
Susan Forde as PENNY
Ken Stern as PAUL and the 2nd G-Man
Cynthia Dempster as ESSIE
David Paul as ED
Kiah Cato as ALICE
Randy Bridge as Mr. POPPINS
Byron McKim as Mr. DE PINNA
Bill Thompson as Mr. KOLENKHOV
Claire Sullivan as RHEBA
Allan Feldman as Mr. KIRBY
Val Clements as Mrs. KIRBY
Andrew Turnbull as TONY KIRBY
Neil Sullivan as Mr. BLAKELY
Bart Chalas as Mr. HUGHES and the 1st G-Man
Stephen Black as Mr. HENDERSON
Joe Stofko as your humble Narrator
Produced, directed, recorded, post-produced and floor swept by Jim Smagata.
Art Design by Jim Smagata
Web Master: April Sadowski
Thanks to Burl-Oak Theatre Group for use of the space and actors. Thanks to Meadowvale Theatre and Erindale Studio Theatre for equipment. Thanks to David O'Hearn for transcribing the xylophone music for us. Music by Kevin McLeod of Incompetech dot com. Thanks to Capt. John Tadrzak, CEO of MisfitsAudio for everything else.
This production copyright 2011 Misfits Audio.
Capt. John Tadrzak CEO of Misfits Audio
2011

"You Can't Take It With You"
[ 58:50 ]
Play in Popup
|
Download
(1221)
One Comment to ""You Can't Take it With You""