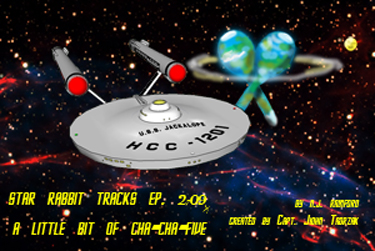 "Do you remember when you were little and the old man down the street used to tell you stories about his youth. Spend some time in the company of former Hare Command officer Jed Warren as he tells the tale of his first tour of duty aboard the Jackalope…".
Star Rabbit Tracks, "A Little Bit Of Chacha 5" was written by N.J. Rainford
Featured in the cast were:
Alex Gilmour as Capt. Peter Rabbit
Bobbi Owens as Lt. Tonya Ears and the Narrator
Rocky Rungano as Commander Thumper
David Maciver as Lt. Taddy McZacker
Stefania Lintonbon as Robot Delta
Michael Liebmann as Dr Harvey 'Hopper' Smith
Our very Special Guest was:
Glenn Hascall as Ensign Jed Warren/Old Jed
Abner Seneries as Fox Second Master
Peter Katt as Chef.
Series created by Capt. John Tadrzak
Editing By Jim Smagata and Capt. John Tadrzak
Produced by Capt. John Tadrzak
Executive Producer N. J. Rainford
Post-production by: James W. Smagata
Webmaster: April Sadowski
Art by Jim Smagata
Capt. John Tadrzak CEO of Misfitsaudio.com
We would like to confirm that no harm came to any Rabbits or Robots during the making of this adventure. Other great audios available from Misfire Audio include Mandarin, the adventures of a spooky goings on in an Olde English Citrus Farm. Jimmy Noolin Private Ear and classic western series The Group of Rangers. We are not affiliated in any way with, Star Trek, Bambi or Beatrix Potter. This production is for enjoyment purposes only.
Misfits Audio, Copyright 2012.

Standard Podcast
[ 21:44 ]
Play in Popup
|
Download
(903)
4 Comments to "SRT_Ep 2_09 "A Little Bit Of Chacha 5""