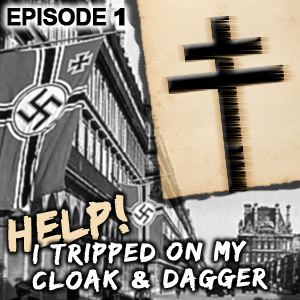 Help! I Tripped On My Cloak & Dagger!
[ 20:49 ]
Play in Popup
|
Download
(965)
Written by Artemis Riddle
Mixed by Michael Wilkinson
An O.S.S. officer parachutes into occupied France during WWII in order to assist the local resistance unit. They bumble through an attempted sabotage– fortunately the Germans are even more inept!
Featuring the voice talent of:
Lt. John Smith (O.S.S.) – Douglas Barbieri
"Canard" Robert Dumas (Resistance) – Abner Senires
"Hibou" Dr. Claude Gaudin (Resistance) – Alex Gilmour
Major Ernst Grunwald (Gestapo) – Jeremy Corke
Henri Chardin (Milice) – Scott D. Harris
Sgt. Oliver Hamilton (S.A.S) – Alan aka Kirok of L'Stok
Hans Biermann (Gestapo) – Abner Senires
"Phenix" Monique Blanchette (Resistance) – Elaine Barrett
Bomb Crewmember (RAF) – David Maciver
Narrator – Michael Liebmann
Music by:
Kevin MacLeod "Hot Swing", "I Knew a Guy"
Creative Commons – No Derivatives – Non Commercial – Attribution – 3.0
One Comment to "Help! I Tripped On My Cloak & Dagger!"