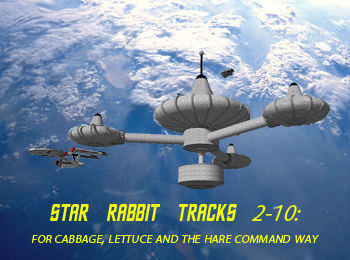 The Mimics' plans move ahead, but will they succeed? Who can be trusted at Hare Command?
Star Rabbit Tracks, "For Lettuce, Cabbage and the Hare Command Way" was written by N.J. Rainford
Series created and Produced by Capt. John Tadrzak
Featured in the cast were:
Bobbi Owens as the Announcer
Alex Gilmour as Capt. Peter Rabbit
Bobbi Owens as Lt. Tonya Ears
Rocky Rungano as Commander Thumper
David Maciver as Lt. Taddy McZacker
Michael Liebmann as Dr Harvey 'Hopper' Smith
Our very Special Guest was:
Darren Marlar as Admiral Jimbob
Robin Hudson as Fox Deputy Head Master
Murray Retread as Fox Mimic.
James Heaney as Mimic 127
Peter Katt as Mimic 331
Kevin Wright as Security Chief
Gwendolyn Jensen-Woodard as Dr Bunny Hop
Ashley M. Kalfas as Lindie Hoppitt.
And Tanja Milejovic as Captain Penny Primrose.
Editing By Jim Smagata and Capt. John Tadrzak
Executive Producer N. J. Rainford
Post-production by: James W. Smagata
Webmaster: April Sadowski
Art by Jim Smagata
Capt. John Tadrzak CEO of Misfitsaudio.com
We would like to confirm that no harm came to any Rabbits or Robots during the making of this adventure. If you knew Mimics, like I knew Mimics, Oh oh oh what jello fiends. )ahem(.. We are not affiliated in any way with, Star Trek, Bambi or Beatrix Potter.
This production is for enjoyment purposes only.
Misfits Audio Productions, Copyright 2012

Standard Podcast
[ 25:20 ]
Play in Popup
|
Download
(882)