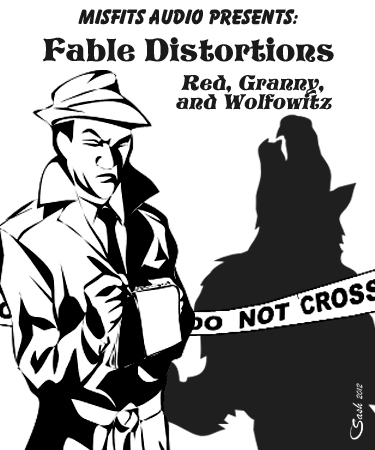 CSI:Fairytale Division has been called to an altercation at Granny's
house. Is anything quite as it seems? If not then who's to blame?
FABLE DISTORTIONS – Red, Granny & Wolfowitz. was written and produced by Glenn A. Hascall
Executive Producer – Capt. John Tadrzak
We'd like to thank our Fable Distortion Players…
Tom Chalker as Mack Adams
Glenn Hascall as Metcalf Mahoney and Johnny Wolfowitz
Katie Dehnart as Red and Granny
Delvin Kinser as Brent Nichols
And special guest April Sadowski as Narrator
"Theme music by Kevin Macleod of Incompetech.com
Mixer: James Smagata
Webmaster: April Sadowski
Art Director: Steven "Sash" Scott
Special thanks to the Brother's Grimm, Mother Goose, Hans Christian Anderson and so many others that inspire the heart of childhood.
Also Special thanks to the characters of childhood stories that seem forgiving of the new ways we share them.
This production is for enjoyment purposes only.
Capt. John Tadrzak is CEO of Misfits Audio Productions
This is an original production by Misfits Audio, © 2012. All rights reserved.

Standard Podcast
[ 11:30 ]
Play in Popup
|
Download
(325)