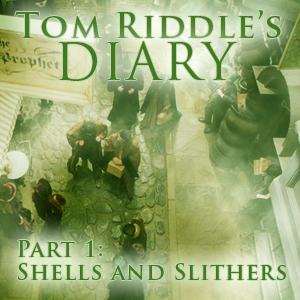 Tom Riddle's Diary: Part 1 "Shells & Slithers"
[ 15:19 ]
Play in Popup
|
Download
(2760)
Written by Artemis Riddle
Post-Produced by April Sadowski
The young Voldemort saunters into Diagon Alley to join a group of Slytherin followers. Upon returning home, he finds Billy Stubbs, a muggle orphan, who tries stand up to Tom with disastrous results.
Slytherins
Tom Riddle – David Ault
Orion Black – Ronnie Rowlands
Avery, Sr. – David Maciver
Lestrange – Alex Gilmour
Olive Hornby – Morganne Reed
Gryffindors
Minerva McGonagall – Elaine Barrett
Rubeus Hagrid – David Maciver
Ravenclaws
Moaning Myrtle – Laura Frechette
Professors
Albus Dumbledore – David Maciver
Orphanage
Billy Stubbs – Jules Ismail
Amy Benson – Artemis Riddle
Mrs. Cole, Matron – Gwendolyn Jensen-Woodard
Special Thanks To
Ginny & The Weasleys for "The Yule Ball" song
Creative Commons – No Derivatives – Non Commercial – Attribution – 3.0
All characters/etc property of J.K. Rowling, Warner Bros., or any of the individuals or companies associated with producing and publishing Harry Potter books and films. This is for entertainment purposes only, no galleons were earned! (spent perhaps, but that's for the Magical Menagerie expense account records. If you are reading this, Smith, that tawny owl was ten years if he was a day! We want a refund!).
19 Comments to "Tom Riddle's Diary: Part 1 "Shells & Slithers""