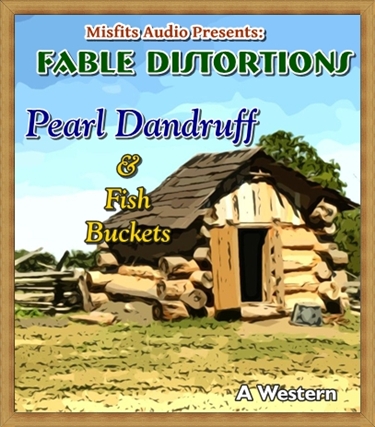 This story is based on a little know Greek fable entitled, "Brother and Sister". We exchanged Gypsies, ravens and a king for pioneers, coyotes and a ranch owner. We kept the official names of brother and sister to remain true to the original story. Our apologies to the Greeks.
FABLE DISTORTIONS – Pearl Dandruff & Fish Buckets – A Western, was written and produced by Glenn A. Hascall
Featured as the Fable Distortion Players are:
Tom Chalker as Narrator
Delvin Kinser as Harry Jones
Katie Dehnart as Sister and Ma
Glenn Hascall as Pa
And Special Guests
Capt. John Tadrzak as Sheriff & Casting Director
Boz Collins as Brother
Dave Chrisman as Son
Mixing and Art Direction: Glenn Hascall
Executive Producer Capt. John Tadrzak
Webmaster: April Sadowski
Music by by Kevin Macleod of Incompetech.com
Special thanks to the Brother's Grimm, Mother Goose, Hans Christian Anderson and so many others that inspire the heart of childhood.
This production is for enjoyment purposes only. Misfits Audio Productions, Copyright 2012

Standard Podcast
[ 13:23 ]
Play in Popup
|
Download
(394)