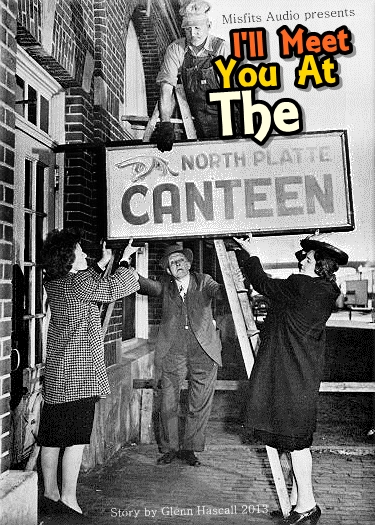 Standard Podcast
[ 20:15 ]
Play in Popup
|
Download
(64)

Centered around the historic North Platte Canteen during World War II this drama inspires devotion to country, promises kept, and the real stuff of American life in the 1940s. A love story that will be worth listening to again any time of year.
I'll Meet You At The Canteen exists because of the talented cast and crew that worked to make it possible:
Brianna Fisher as Jenny
James Lorenz as Wallace
Rebecca Thomas as Kay
Lampros Liontos as Narrator
Glenn Hascall as Announcer
Roy Mills as Spencer
Capt. John Tadrzak as Paul
Russell Gold as Tom
Christopher Poirier as Max
Ryan Hascall as Soldier 1
Glenn Higbee as Soldier 2
Josh Carlson as Franklin
Dave Morgan as Donovan
Joe Stofko as William
Eleiece Krawiec as Older Jenny
Marie Kopan as Kelly
Peter Katt as Porter
I'll Meet You At The Canteen was written, produced and mixed by Glenn Hascall.
Executive Producer – Capt. John Tadrzak
Music by Kevin Macleod of Incompetech.com, with additional music from the time period that exist in the public domain.
Script Editor: Sheryl Collins
Art by: Glenn Hascall
Webmaster: April Sadowski
All the characters portrayed in this story are fictitious. Any resemblance to real persons, living or dead, is purely coincidental.
This production is for enjoyment purposes only and is an original production by Misfits Audio, © 2013. All rights reserved.
2 Comments to "Misfits Audio Presents a Glenn Hascall Valentine special:"