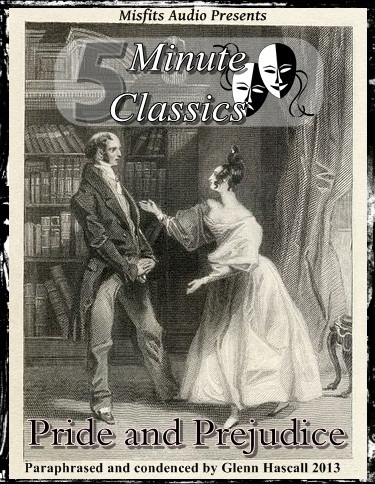 Misfits Audio brings the classic Pride and Prejudice to life in a highly condensed fashion. Elizabeth, Jane, and many of the other beloved cast members show up for a retelling that is just five minutes long (give or take). Add a little humor and you have the start of a new series – 5 Minute Classics.
This story was written, produced and mixed by Glenn Hascall.
Our cast includes…
Jim Patton as Narrator
Eleiece Krawiec as Mrs. Bennett
Joe Stofko as Mr. Bennett
David Wagner as Mr. Bingley
Glenn Hascall as Mr. Collins
Natalie Stanfield Thomas as Jane
Tanja Milojevic as Elizabeth
Boz Collins as Mr. Darcy
Misfits Audio Production Staff:
Writer, Glenn Hascall
Executive Producer, Captain John Tadrzak.
Webmaster: April Sadowski
Art Director: Glenn Hascall.
"Theme music by Kevin Macleod of Incompetech.com
All the characters portrayed in this story are fictitious. Any resemblance to real persons, living or dead, is purely coincidental.
This production is for enjoyment purposes only.This is an original production by Misfits Audio, © 2013.
All rights reserved. Characters remain in the Public Domain and
were inspired by the original work of Jane Austin.

Standard Podcast
[ 6:04 ]
Play in Popup
|
Download
(526)