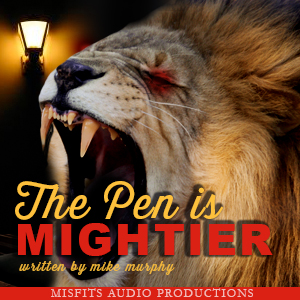 A prejudiced young man discovers he has an unusual problem after a drunken visit to Chinatown.
Our cast:
CHRIS MARCELLUS as Joel,
JAN ANDERSON as Sheriff Costello,
TRICIA GROVES as the Deputy,
CHRIS POIRIER as Pete,
REBECCA THOMAS as Rachel,
GLENN HASCALL as Mr. Woo,
RUSSELL GOLD as Mr. Chang, and
LORI FURTH as the Narrator.
Written and produced by Mike Murphy.
Assistant Producer: Capt. John Tadrzak
Mixer: Daniel Krempa
Music for "The Pen is Mightier" was provided by Daniel Krempa and John Carl Toth. Please visit John's website at http://johnietoth.wix.com/music.
Script Editor: Arlene Osborne
Webmaster: Capt. John Tadrzak
Art Director: Alexa Chipman
All the characters portrayed herein are fictitious. Any resemblance to actual persons, living or dead, is purely coincidental.
This is an original production of Misfits Audio, © 2013. All rights reserved.

Standard Podcast
[ 21:01 ]
Play in Popup
|
Download
(688)
4 Comments to "Misfits Audio Presents Halloween : "The Pen is Mightier""