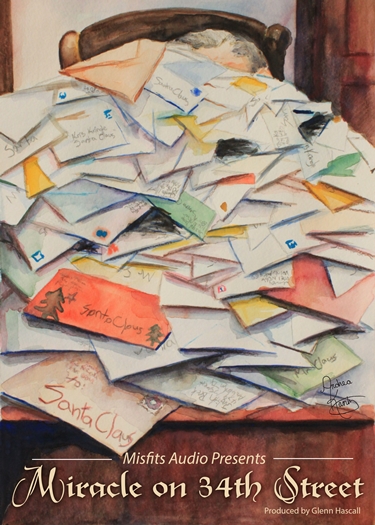 A beloved classic treated with as much care to recreating this as authentically as possible. This audio drama may inspire a child-like faith in things unseen – even by those who have been conditioned to be a die-hard skeptic. When this happens we may join so many others witnessing a "Miracle on 34th Street".

Standard Podcast
[ 52:02 ]
Play in Popup
|
Download
(392)
Featured in the cast were:
Natalie Stanfield Thomas as Mrs. Walker
Peter Katt as Mr. Gailey
Joe Stofko as Kris Kringle
Chloe Dehnart as Susan Walker
Capt. John Tadrzak as Judge Harper
Katie Dehnart as Woman Shopper (Mother)
Russell Gold as Thomas Mara
Glenn Hascall as Mr. Shellhammer
Bob Arnold as Mr. Sawyer
Glenn Higbee as Mr. Macy
Billy Flynn as Dr. Pierce
Colm Ward as Young Thomas
Carl Tomasello as Store Owner
Rory Ward as Peter
Tricia Groves as Miss Adams
Toni Collins as Teacher
Blake Carter as Bailiff
Delvin Kinser as Charlie
Boz Colins as Postal Employee
Dave Chrisman as Narrator
This story was adapted, produced and mixed by Glenn Hascall.
Executive Producer and webmaster, Captain John Tadrzak.
Art Director: Andrea Kuntz
Music: Arturo Toscanini (Public Domain)
This production is for enjoyment purposes only and is an original production by Misfits Audio, © 2013.
All rights reserved. Characters remain in the Public Domain and were inspired by the original work of Valentine Davies.
One Comment to "Misfits Audio Productions Proudly Presents: Miracle on 34th St"