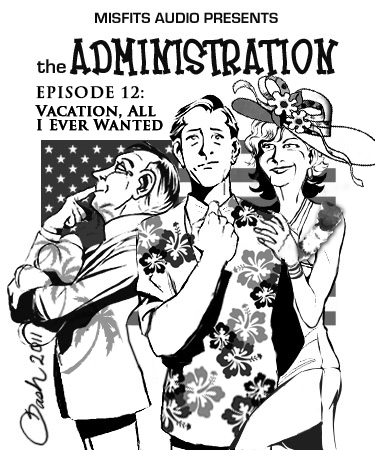 On vacation from Washington, D.C., the Narrator has his first encounter with the amorous First Lady.

Standard Podcast
[ 14:56 ]
Play in Popup
|
Download
(742)
STARRING:
JOE STOFKO as President Duncan,
PETER KATT as Mergatroid, and
PETER BISHOP as the Narrator.
GUEST STARRING:
THERESA AMICO as Dorothy Duncan.
The series is written, created, and produced by Mike Murphy.
Assistant Producer and Webmaster: Capt. John Tadrzak.
Post-production was accomplished by Mathieu Blondin.
Original music was composed and performed by Sam Wu.
Please visit his website at thesixtyone.com/sam1010.
The art directors are Steven "Sash" Scott.
The script editor is Arlene Osborne.
All the characters portrayed in this series are fictitious. Any resemblance to actual persons, living or dead, is purely coincidental.
This has been a production of Misfits Audio. © 2014. All rights reserved.