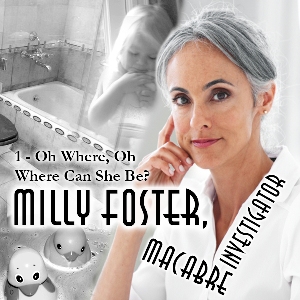 Milly deals with a creature that has likely killed a mother, and left her little girl hospitalized, and in shock.

Standard Podcast
[ 22:49 ]
Play in Popup
|
Download
(766)
REGULAR CAST:
NATALIE STANFIELD THOMAS as Milly,
GLENN HASCALL as Woodrow, and
FRAN McCLELLAN as the Narrator.
GUEST CAST:
Karen Gerstman as Emily Houston,
Laila Berzins as Rebecca Houston,
Mark Jones as Principal Conklin,
Tricia Groves as Magda,
Deb Adams as Woman #1,
Ted Wenskus as Man #1,
Fiona Thraille as Woman #2,
Jan Anderson as Man #2,
Russell Gold as Tim Houston, and
Melissa Exelberth as Dr. Mallory.
The series was created, produced, and written by Mike Murphy.
Assistant Producer and Webmaster: Capt. John Tadrzak.
Post-Production: Alex Lawsford.
Music for the series was composed and performed by John Carl Toth. It is © 2014 and is used with his permission. To hear more of his music, please visit his website at johnietoth.wix.com/music.
Script Editor: Arlene Osborne.
Art Director: Alexa Chipman.
All the characters portrayed in this series are fictitious. Any resemblance to actual persons, living or dead, is purely coincidental.
© 2015 by Misfits Audio. All rights reserved.
4 Comments to "MILLY FOSTER, MACABRE INVESTIGATOR: Ep 1 "Oh Where, Oh Where Can She Be?""