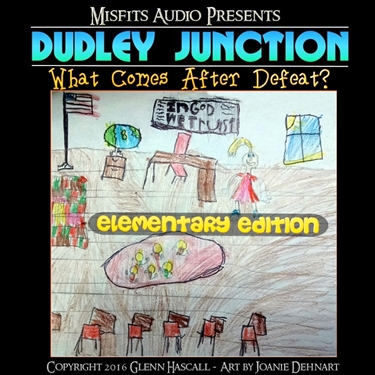 Dudley Junction: The History Collector – What Comes After Defeat? was developed to salute those who see injustice and stand for truth and compassion. The series is designed to highlight the talents of young people who sincerely love audio drama.
Mr. Donovan packs up his techno gadgets and heads over to the elementary school on his less than stellar bicycle. Lizzy and Terese are waiting to learn more about someone they only thought they knew. This time Mr. Donovan gets a little help from Ms. Carlisle. Don't be surprised if you learn something, too. You might find it takes a while to figure what historical pioneer he's talking about.
Dudley Junction: The History Collector – What Comes After Defeat? was written, produced and mixed by Glenn Hascall..
Our cast includes…
Tami Rumfelt as Narrator
Glenn Hasall as Mr. Donovan
Katie Dehnart as Ms. Carlisle
Chloe Dehnart as Lizzy
Joanie Dehnart as Terese
Tonja Malojavich as Clarissa
Randy Streu as John
John Dehnart as Thomas
Joe Stofko as Stephen
Artwork by Joanie Dehnart
Executive Producer and webmaster – Capt. John Tadrzak
Theme music by Kevin McCleod (McCloud) of Incompetech.com.
This production is for enjoyment purposes only. Any similarities to historical figures was intended although dialogue and the remaining characters were entirely fictional. This is an original production by Misfits Audio, © 2016. All rights reserved.

Standard Podcast
[ 20:18 ]
Play in Popup
|
Download
(440)
One Comment to "Dudley Junction Ep2: "What Comes After Defeat?""