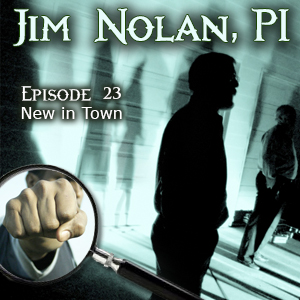 Jim is the focal point when violence strikes him and his friends.
Jim Nolan, Private Eye was created by Mike Murphy and Arlene Osborne.

Standard Podcast
[ 30:33 ]
Play in Popup
|
Download
(3381)
REGULAR CAST:
RUSSELL GOLD as Jim Nolan,
KIM GIANOPOULOS as Gladys Nolan,
BRIAN BEDARD as Lt. Walter Carmichael, and
KATIE DEHNART as the Narrator.
GUEST CAST:
TANJA MILOJEVIC as Rebecca,
MICAH TOUCHET as Sean O'Connor,
JAN ANDERSON as Mr. Curtis,
ROB SHIMER as the Man,
MERILEE ROBINSON as the Woman,
DAVE MORGAN as Sgt. McManus,
LAURA BEDNARSKI as Mrs. O'Connor,
TED WENSKUS as Bobby Kellerman,
JULIE BRUNO as the Officer,
PETE LUTZ as Larry Marino,
CHRIS MARCELLUS as Jack Figg, and
CHRIS POIRIER as Rico
"New in Town" was written by Mike Murphy.
The Jim Nolan, Private Eye theme was composed and performed by Vivian Doskow. Please hear more of her wonderful music at myspace.com/viviandoskow.
Producer: Mike Murphy
Assistant Producer: Capt. John Tadrzak
Post Production: Glenn Hascall.
Script Editor: Arlene Osborne
Webmaster: Capt. John Tadrzak
All the characters portrayed in this story are fictitious. Any resemblance to real persons, living or dead, is purely coincidental.
This production is for enjoyment purposes only. This is an original production by Misfits Audio, c 2016.