The Jackalope is faced with a new enemy from very deep in space, something that even makes the Captain's fur, stand on end.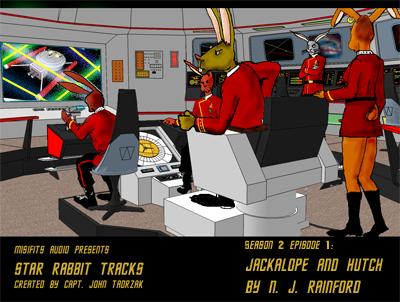 Star Rabbit Tracks, Season 2, Episode 1: Jackalope And Hutch
[ 17:46 ]
Play in Popup
|
Download
(985)
Written by N. J. Rainford
Editing by Jim Smagata
Produced by Capt. John Tadrzak
Post-production, music and sound effects by James W. Smagata

Featuring the Voice Talents:
Alex Gilmour as Capt. Peter Rabbit
Bobbi Owens as Lt. Tonya Ears
Rocky Rungano as Commander Thumper
Michael Liebmann as Dr. Harvey "Hopper" Smith
David Maciver as Lt. Taddy McZacker
Jules Ismail as Robot Alpha
Stefania Lintonbon as Robot Delta
Roy P. Cunningham as the Announcer
Our Wonderful Special Guest was:
Joe Stofko as "The Hutch"
We would like to confirm that no harm came to any Crows, Rabbits, Robots, Ships or The Hutch (darn it), while producing this audio. Some corn was sacrificed. We are not affiliated in any way with Star Trek or Beatrix Potter, nor do any of the characters drive a red-and-white Ford Torino. This production is for enjoyment purposes only. Misfits audio. 2010.
One Comment to "Star Rabbit Tracks, Season 2, Episode 1 "Jackalope And Hutch""