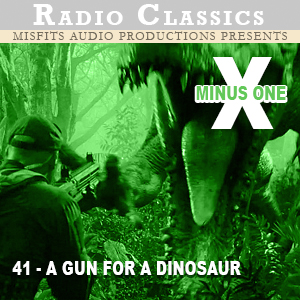 Standard Podcast
[ 28:56 ]
Play in Popup
|
Download
(3827)

Special Notice: Episode 40 is a repeat from an earlier release.
You are a guide that takes customers back in time to hunt Dinosaurs but one of them wants to do more then that.
X Minus One, A Gun for a Dinosaur was written by L. Sprague de Camp.
X Minus one "Intro" and Announcing was done by Fred Collins
Directed by Daniel Sutter
Cleaned by Capt. John Tadrzak of Misfits Audio Productions
Intro Music by:
Kevin MacLeod "Ghost March" and Johnny Western.
This is For Entertainment Purposes Only
Misfits Audio Productions copyright 2017