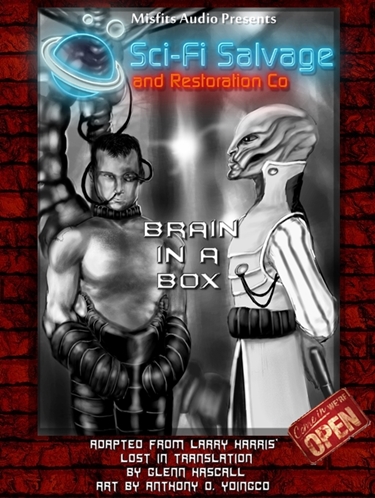 Standard Podcast
[ 27:30 ]
Play in Popup
|
Download
(131)

What happens when someone who comes from a democratic form of government visits a planet with a totalitarian government. How does democracy confuse the ruler of Tr'en? What does it mean. What can be learned. Join the Storykeeper as he shares this piece of science fiction inspired by a short story by Larry M. Harris.
Thanks for listening to Sci-Fi Salvage and Restoration Co. – Episode 3 – "Brain in a Box" Don't forget to check out the complete cast members by clicking (more).
Cast:
Sci-Fi Salvage and Restoration Co. – Brain in a Box exist because of the talent of the following cast and crew…
Rebecca Thomas as Sonya
Joe Stofko as Storykeeper
Dale McCubbins as Sergeant Major Phillips
Russel Gold as Corporal Korvin
Todd Speros – Guard
Eleiece Krawiec – Didi-Ak
Randy Streu – The Ruler
Glenn Hascall as Expert 1
Paul Brion as Expert 2
Scott Johnson as Narrator
Brain in a Box was adapted from Larry M. Harris' short story "Lost in Transition" by Glenn Hascall who also served as producer.
Post production by Sonny Steelgrave.
Executive Producer and webmaster – Capt. John Tadrzak
Art by Anthony Yoingco
This production is for enjoyment purposes only and is an original production by Misfits Audio, © 2017. All rights reserved.