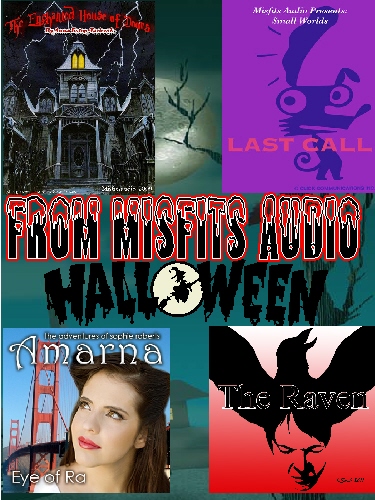 Folks, grab some coffee because it's going to be a long cold night, even play this out loud while handing out the goodies!, as we bring you not just one of our shows from the past, but many from the past, so enjoy this, but Please check out our other past shows. Capt. John__ NOW my we present THE COFFIN EXCHANGE.
The Coffin Exchange Coffin Keeper was John Bell
Misfits Audio "Coffin Exchange" was written by Capt. John Tadrzak
Post Production and Music by Jim Smagata
Web Master, April Sadowski
We would like to thank the following for the use of their stories.
The Enchanted House of Doors
Written by Anna Estep-Tadrzak
Narrated by Capt. John Tadrzak
Post-production and Art Design by Jim W. Smagata
Last Call
Written by Colin Thornton
CAST:
Jon Specht, as the Announcer.
Karen Kahler as Lee
Scott Fortney as Jason, and
Doug Barron as Mackie.
CREW:
Colin Thornton, Writer & Producer.
Kurt von Hahn, Music & Mixer.
Mike Murphy, Script Editor.
Art Design Colin Thornton
Executive Producer Capt. John Tadrzak
Amarna: The Adventures of Sophie Roberts
"Eye of Ra"
Written, Read and mixed by Alexa Chipman
Sound effects thanks to Stevie K. Farnaby and Bill Hollweg
Music by Kevin MacLeod of http://incompetech.com
Art Design Alexa Chipman
Three-Way Split
Written by Dennis P. Junot, Adapted by Jim Smagata
Featuring:
John Bell as the Narrator
Mark Snetsko as Byron Brian
Evan Williams as Louis Carey
Murray Retread as Dr. Stephano
William Smagata as Thug
Eliza Martin and Alex Spyropoulos as the secretaries.
Directed and mixed by Jim Smagata
Music by Kevin McLeod of Incompetech.com
The Raven
Written by Edgar Allen Poe
Verbalized by John Bell
Mixed by John bell and Jim Smagata
Art Design by Steven "Sash" Scott
The Coffin Exchange Character is the property of Misfits Audio Productions.
This has been a Misfits Audio production Copyrighted 2014

Standard Podcast
[ 1:22:10 ]
Play in Popup
|
Download
(87)