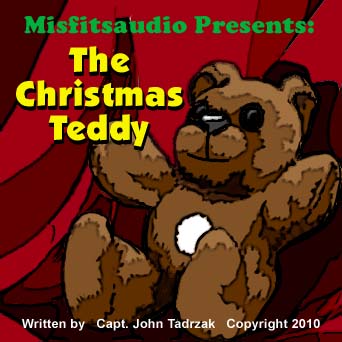 Christmas Teddy is taking place in the 1950's but it still could be happening somewhere in the United States today. This particular story is about a local toy store, a little girl named Daphne and her family, who still believes in miracles.
Click more to view accompanying video.
Darren Marlar as the Announcer
Joe Stofko as Andrew
Esther Specht as Daphne
Katie Dehnart as Mandy
James Smagata as Sam
Jon Specht as Brian)
Peter Katt as Officer Steve
Alexa Chipman as Anna
Capt. John Tadrzak as Mr. Williams
Jennifer Estep as Aleta
The Christmas Teddy was written by Capt. John Tadrzak, who retains all rights to the audio, written story and characters.
Music for "The Christmas Teddy" is courtesy of Kevin McLeod of Incompetec dot com, also from the CD "Elegant Chamber Music for Christmas", and "E and E cello Music".
Producer: Capt. John Tadrzak
Mixer/sound effects: James Smagata
Editor: Miles Liptak
Art Drawings by Steven "Sash" Scott
Visual effects by James Smagata
For Private use only
From The staff and CEO of Misfits Audio Productions, we wish you all a safe and happy Holidays.
Capt. John
This audio production was produced by Misfits Audio Production Company Copyright 2010.
Video above uses Silverlight. Install Silverlight from Microsoft.

Christmas Teddy
[ 39:18 ]
Play in Popup
|
Download
(771)
6 Comments to "Christmas Teddy"