A funny and tender treatment of the dilemmas facing most of us in our later years.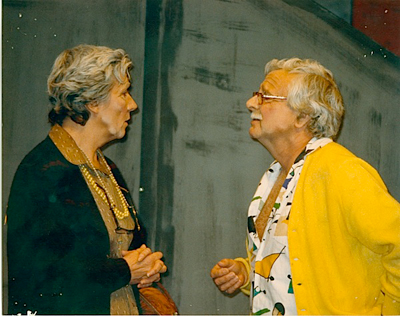 The stage production.

Amusing Grace Part 3
[ 15:46 ]
Play in Popup
|
Download
(302)
Misfits Audio, in cooperation with Calliope Sound Productions brings you "Amusing Grace"
Act 2. Scene 1: The next day. Grace plans a surprise for Danny. She is on the roof of the complex setting up a table.
A romantic comedy in 5 parts, written by Neville J. Bryant. Directed by Tony Junor. Recorded before a live audience in August, 2000, At Erindale Studio Theatre, University of Toronto, Mississauga. Ontario.
The cast and crew are as follows:
Grace Marlow was played by Hasel Dalgleish
Danny Wendel was played by Jim Hooper
Jillian Marlow was played by Julie Tisdale
Live sound effects (Foley) Performer was Scott Shepherd
Music was written and performed by Neville J. Bryant.
Live recording supervised by James W. Smagata
Your announcer is Murray Retread.
Please visit Neville's website at http://www.stagecraftproductions.net, and Calliope Sound productions at http://www.calliopesoundproductions.com.
For Misfits audio, Capt. John Tadrzak is the CEO, and April Sadowski is our webmaster. The preceding was used by permission of Neville J. Bryant and Calliope Sound productions, Tony Junor, President and CEO.
"A triumph of grey power, Amusing Grace is a hit."
- SCOTT WHALEN, PETERBOROUGH EXAMINER
"A joyful look at senior's love story"
- STAVIA REASON, TORONTO STAR
"Should be required viewing for anyone claiming to enjoy live theatre."
-JIM COSTLEY, THEATRE ADVENTURES